Carpet Cleaning
Specialists
Contact Angel Carpet Cleaning today for all domestic and commercial carpet cleaning needs. Same day service available! With more than two decades experience, our team have what it takes to offer the highest cleaning standards at very affordable prices. Our comprehensive carpet cleaning process ensures your carpets stay cleaner for longer and includes:
Pre-Vacuum of Carpet
All residential carpet cleaning and commercial carpet cleaning begins with our technicians pre-vacuuming all carpet before they commence cleaning. This is done using a specialized industrial vacuum cleaner which has a high speed rotary beater brush that brings all soiling and any foreign objects up from the bottom of the pile and removes them.
Pre-Spray Carpet and Deodorising
In the next step of the carpet cleaning process technicians pre-spray the carpet using a unique product "Turbo-dry soil release"This is a specially formulated non-toxic product which suspends the soil and then allows it to be removed easily using the specialized dry or steam cleaning methods. Also included with the pre-spray is our unique odour-absorbing deodoriser which not only quickly covers the odour but absorbs and eliminates the source of the odour.
Carpet Stain Treatment
In the next stage of the carpet cleaning process all individual stains are treated using a wide range of specialized non-toxic stain removers depending on the type of stain. We have tea and coffee removers, removers for red wine, rust, paints, lipsticks, ink and even chewing gum. We also use a specially formulated carpet cleaning product that is protein based and this removes milk and food stains.  Water marks caused by pot plants and flood damage can also be eliminated. *Please note: Not all stains are removable, however at Angel Carpet Cleaning we guarantee that if we can't remove a stain that no one else will be able to remove it either. (This does not include bleaching or dying


Dry Carpet Cleaning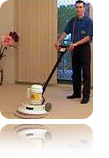 The newest dry carpet cleaning method has been embraced by Angel Carpet Cleaning as it gives our clients the most thorough clean. It will leave the carpets feeling soft and looking great. An added bonus is not having to wait days for your carpets to dry, you can walk on them right away and they will be completely dry in 2 hours. The dry carpet cleaning method does not cause any shrinkage or buckling of the carpet and is especially recommended on wool carpets.


Steam Cleaning*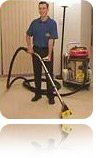 While we recommend our Dry Carpet Cleaning method we are also happy to offer our clients a full Steam Cleaning service.To ensure we meet all of clients needs, and to provide the best quality in all of our services, our steam cleaning units are state of the art, utilizing European machinery which has high suction intake and and high pressure steam spray for a professional steam clean.
Perfect for Your Carpets
We have no single cleaning method. Our philosophy is to use whatever method will work best for YOUR carpets and upholstery. Other cleaners will tell you that they have the best method. Our question is: if there was one absolute best cleaning method that everyone agreed was the best in every situation then why are there so many cleaning methods out there? The fact is that there is no one size fits all cleaning method.
There are many different kinds of carpets and upholstery withmany different kinds of problems. What works best in one situation may not work in another. All cleaning methods have strengths and weaknesses. They work well in some situations but not so well in others. We won't try and fit your circumstances and conditions into a cookie cutter cleaning method. We'll tailor our method to meet your needs.
Having said that. The method our customer overwhelmingly prefer is a dryer method of cleaning. We're able to use 95% less water so your carpets are dry in less then 2 hours. We get your carpets cleaner and they stay cleaner longer. That means you get the use of your room or house back right away.

Contact our friendly and experienced
team today for a FREE Quote!